Heat Treating Sapphire Rubies, Corundum Heat Treating, Montana Sapphire heat Treating,Sapphire Heat Treater,Sapphire Heat Treating,Ruby Heat Treating,

SAPPHIRE & RUBY HEAT TREATING SERVICE
[CORUNDUM HEAT TREATMENT]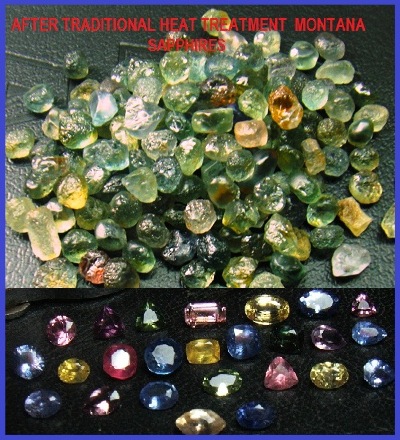 WHY HEAT TREATMENT NEEDED IN SOME SAPPHIRES
and RUBIES ?

To improve the Color and to bring Brilliance [Improve Clarity] of
the Rubies and Sapphires... Certain type of Origins of Sapphire
and Rubies do not give 100% positive result on heat treatment
always. Today's Market you find 90% of Sapphires are Heated
in traditional method to improve the color and clarity.

WHAT DOES Heat treatment do to the Sapphires & Rubies.. ?
Certain type of un-dissolved natural impurities[Chemical elements]
which is presented in the natural rough stones[corundum's]can be
dissolve by very high heat and could turn them to improve color &
to open the crystal of the gems in to a transparent gem instead
of semi - transparent, translucent & in some occasion translucent
to opaque type of gems.Mostly Darkish-Blue Sapphire are unable
to change in to lighter color by heat Treatment but Sapphire with
lighter color or colorless [ with slight presence of un-dissolved
chemical elements being in gemstones, such as Geuda ] can be
improved by treatment [ color and clarity ]. Most Sapphire rough
coming out of USA mines [ Montana ], no need to do pre-shaping
or trimming [to remove certain type of inclusion to avoid cracking,
shattering in high heat ]. Crystal structure formation on Montana
Sapphire allows us to heat treat them as it is without pre-shaping,
most of Other origins need to be pre-shaped & trimmed[removing
certain type of inclusion prior to treatment to avoid cracking and
shattering] Further pre-shaping [removing certain type of inclusion],
we need to charge a small fee. In pre-forming your rough stones
will loose some weight . If you are not family or do not know how to
figure-out the out come of the Heat Treatment..... its advisable to
Heat-Treat a small Quantity like 50 odd carats[10 grams]To get an
idea of your rough stones before going on to larger quantity.

Heat Treating Sapphire Rubies, Corundum Heat Treating, Montana Sapphire heat Treating,Sapphire Heat Treater,Sapphire Heat Treating,Ruby Heat Treating,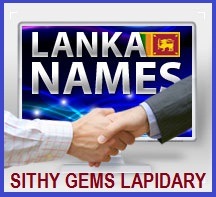 WE COULD HEAT TREAT YOUR SAPPHIRES, RUBIES AND
FACET THEM TO HIGH-QUALITY STANDARD
[ DIAMOND STANDARD CUTTING ]

CORUNDUM HEAT TREATMENT RATES

WEIGHT OF THE PARCEL PRICE PER CATAT US DOLLARS
OVER 50 CARATS or LESS $3.50/CT /MIN ORDER $175
OVER 100 CARATS LOTS $2.50 PER CARAT
OVER 150 CARATS LOTS $2.00 PER CARAT
OVER 250 CARATS LOTS $1.50 PER CARAT
OVER 500 CARATS LOTS $1.25 PER CARAT
OVER 1000 CARATS LOTS $0.68 PER CARAT
2000 - 5000 CARATS LOTS $1147 PER PARCEL


Heat Treating Sapphire Rubies, Corundum Heat Treating, Montana Sapphire heat Treating,Sapphire Heat Treater,Sapphire Heat Treating,Ruby Heat Treating,