Chemically Heat Treated BLUE & GREEN TOPAZ****
[ NO IRRADIATION INVOLVED to Enhance Blue or Green]****
Pick the sizes by Weight from above "BLUE TOPAZ PRICE LIST" and let us know the shapes you wanted to Purchase. Further let us know how many pieces you wanted to purchase in each sizes and shapes beside the color (Swiss,Sky & Green). Once we receive your ORDER INQUIRY will email you a detail INVOICE for the TOPAZ ORDER. Upon receipt of the Payment will ship your Order.

WHOLESALE PRICE LIST OF BLUE TOPAZ for Calibrated SIZES <=[ click-here ]

SHIPPING CHARGE : U.S. $45, if your Order is larger you need to verify with us the cost of shipping.

PAYMENT: Paypal, Western Union, Money Gram, International Money Order & Bank to Bank Wire Transfer

CONCERNING RETURN POLICY: only replacement policy available.


============================================================================

IF YOU WANTED TO HEAT TREAT YOUR WHITE TOPAZ IN TO COLORS ?
CHEMICALLY HEAT TREATING PROCESSING RATES AS FOLLOWS
| | | |
| --- | --- | --- |
| SWISS BLUE & GREEN | DIFFUSION PROCESS | MINIMUM |
| AVGE STONE SIZE | RATE U.S DOLLARS | QUANTITY |
| 1.00 - 3.00 Carats Size | $ 0.40 per Carat | 1000 Carats |
| 4.00 - 6.00 Carats Size | $ 0.45 per Carat | 1000 Carats |
| 7.00 - 10.00 Carats Size | $ 0.48 per Carat | 1000 Carats |
| 11.00 - 13.00 Carats Size | $ 0.50 per Carat | 1000 Carats |
| 14.00 - 16.00 Carats Size | $ 0.52 per Carat | 1000 Carats |
| 17.00 - 20.00 Carats Size | $ 0.54 per Carat | 1000 Carats |
| 21.00 - 25.00 Carats Size | $0.55 per Carat | 1000 Carats |
| 26.00 - 30.00 Carats Size | $0.56 per Carat | 1000 Carats |
Presently we are offering High-Quality Diffusion Topaz Treatment Service.We're Treating WHITE TOPAZ into top Colors of SWISS BLUE, LONDON BLUE, SKY BLUE, EMERALD GREEN & APPLE GREEN. If you have a stock of cut and polished white topaz (faceted) & wanted to treat them into fine colors, we are the prime source for you. We could do the treatment for you at a competitive rates. Our color treatment is permanent and it will take any high tempreture applied by Jewelers welding torch ( while setting stones ), also you could soak/immerse them in ultrasonic chemical or any cleaning liquid substance, it will not cause any harm to the stone such as loosing color, changing color or fading color like in mystic topaz or other color treated topaz such as vapour color coated topaz what you see now in the market in all type of colors including pink, yellow & etc). irradiation treated colored topaz and diffusion treated colored Topaz last forever & the color is permanent, no harm can be done by heat or by chemicals.



COLOR SAMPLE OF TREATED TOPAZ


EMERALD GREEN TOPAZ

SWISS BLUE TOPAZ

APPLE GREEN TOPAZ

SKY BLUE TOPAZ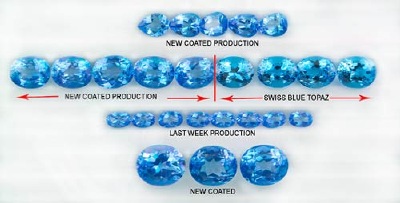 SWISS BLUE TOPAZ PICTURES



Once you decide to send White topaz for treatment, please make sure all stones are 100% clean free of inclusion (loupe clean), if we treat any stones with inclusion such as bubble, it could shatter into pieces due to the high tempreture applied during treatment process.

Turn around time, upon receipt of White Topaz Shipment, it will take 7 - 14 days to finish the process of treatment.

You could ship your stones to our work-shop (Sri Lanka) via Registered Air-Mail, EMS, Courier Service and Air Freight.

Shipping Instruction, Please make sure to insert a Shipping invoice in-side the package (box) and make sure to write on the Shipping Invoice as, "White Topaz for Color Treatment (diffusion Treatment) & re-export only", along with the weight of the topaz, pieces count & its value $.

Please write it down on the customs declaration form as "Pebble stones" instead of gems, gemstones or semi-precious stone, for security purpose.

Shipping Address

SAINUL MOHAMED
246/3 MATALE ROAD
AKURANA,
SRI LANKA.

Payment for Treatment Service

After finish Treating your stones, we will e.mail or fax you a detail Invoice (along with import clearing & Shipping Charges). At the rcpt of the funds through Western Union, International Money Order or wire transfer to our Bank we will Ship your stones back to you via Postal Service by registered airmail ( $45.00 ),so normally the postman brings the goods, you sign for them and you have them without further formalities.